Descrizione del prodotto
SMR Reducer Specification


1 Output Hub

Standard or alternative hubs with metric bores are available to suit international standard shaft diameters.

2 Precision High Quality Gearing

Computer Designed Helical Gears, Strong Alloy Materials for High Load Capacity, Case Carburized for long life, Ground Profile(some intermediate pinions are shaved) Crown tooth Profile, In Conformance with ISO 1328-1997, 98% Efficiency for Per Stage, Smooth Quiet Operation with Several Teeth in Mesh.

3 Maximum Capacity Housing Design

Close Grain Cast Iron Construction, Excellent Vibration Dampening & Shock Resistance Features, Precision Bored and Dowelled to Ensure Accurate In-Line Assembly.

4 Strong Alloy Steel Shafts

Strong Alloy Steel, Hardened, Ground on Journals, Gear Seatings and Extensions, for
Maximum Load and Maximum Torsional Loads. Generous Size Shaft
Keys for Shock Loading and Conform to ISO Standards.

5 Additional Case Lugs Except H and J Gear Case

Eliminates the Need for Critical Tightening of Torque Arm Bolts. Controls Position of
Standard Torque Arm Mounting within Recommended limits.

6 BackStops

Alternative Parts, Antirun Back Device, AreAvailable on all 13:1 and 20:1 Ratio Units and do not recommend for 5:1 Units.

7 Bearings and Oilseals

Bearings are Adequately Proportioned and Conform to ISO Dimension Plan, Readily
Available WorldWide. Oilseals are Double Lipped Garter Spring Type, Ensuring Effective Oil Sealing.

8 Rubberised End Caps

Self Sealing Intermediate Cover Plates, to Standard ISO Housing Dimensions.

9 Torque Arm Assembly

For Easy Adjustment of the Belt.


SIZE : SMR B C D E F G H

RATIO : 5:1 13:1 20:1

Contact Me

Welcome to contact William for more details!


| | | | | | | | | |
| --- | --- | --- | --- | --- | --- | --- | --- | --- |
| Model | B13/B20 | C13/C20 | D13/D20 | E13/C20 | F13/E20 | G13/F20 | H13/G20 | J13/J20 |
| Output(RPM) | 10-115 | 10-110 | 10-110 | 10-105 | 10-105 | 10-100 | 10-100 | 10-100 |
| Power Rating(KW) | 0.29-3.11 | 0.49-4.62 | 0.82-7.81 | 1.25-11.55 | 1.97-17.01 | 3.11-27.09 | 4.9-40.7 | 7.8-60.5 |
| Permissible torque(Nm) | 277 | 468 | 783 | 1194 | 1881 | 2970 | 4680 | 7449 |
| | | | | | | | | |
| --- | --- | --- | --- | --- | --- | --- | --- | --- |
| Model | B5 | C5 | D5 | E5 | F5 | G5 | H5 | J5 |
| Output(RPM) | 100-400 | 100-400 | 100-400 | 100-400 | 100-400 | 100-400 | 100-400 | 100-400 |
| Power Rating(KW) | 2.68-7.14 | 4.2-9.66 | 6.62-15.65 | 10.29-24.57 | 15.12-35.91 | 25.2-59.9 | 36.2-81.9 | 62.2-134.2 |
| Permissible torque(Nm) | 256 | 401 | 632 | 983 | 1444 | 2407 | 3457 | 5940 |
Dimension(mm)
SMR Size
SMR-B
SMR-C
SMR-D
SMR-E
SMR-F
SMR-G
SMR-H
SMR-J
Standard size of shaft
30
40
50
55
65
75
85
100
Alternative size of shaft
40
50
55
65
75
85
100
120
Input shaft keyway
6x3.5x50
6x3.5x59
8x4x63
8x4x70
10x5x70
12x5x90
14x5.5x100
16x6x100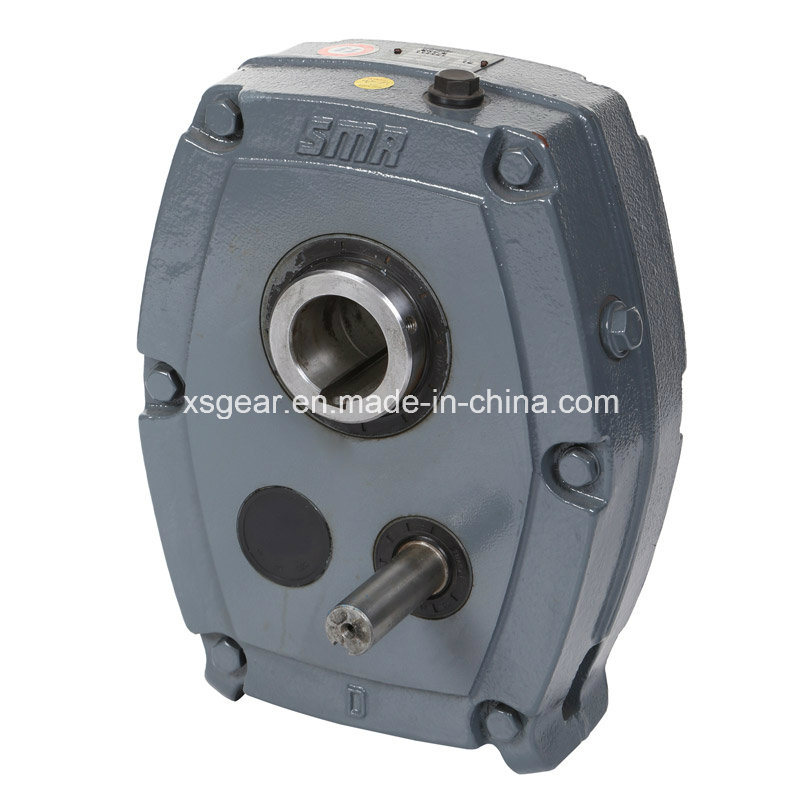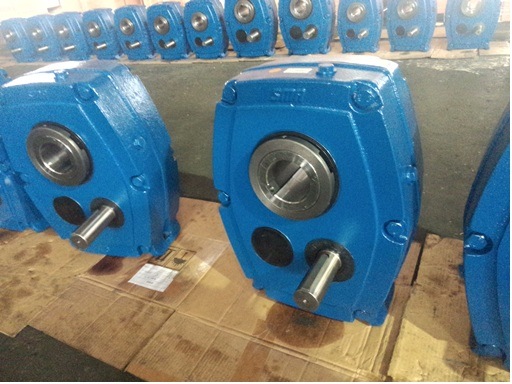 Company Profile
l The largest manufacturer and exporter of worm gear reducers in Asia.
l Established in 1976, we transformed from a county owned factory to private one in 1996. HANGZHOU SINO-DEUTSCH POWER TRANSMISSION EQUIPMENT CO.,LTD is our new name since 2001.
l We are the first manufacturer of reducers and gearboxes in China who was given export license since year 1993.
l "Fixedstar" brand gearboxes and reducers are the first owner of CHINA TOP BRAND and Most Famous Trade Mark for reducers.

First to achieve ISO9001 and CE Certificate among all manufacturers of gearboxes in China.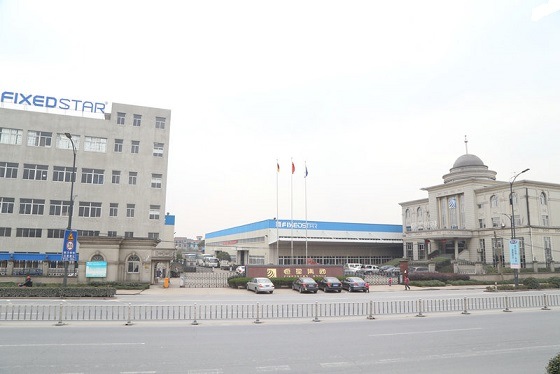 As a professional manufacturer of worm gearbox and worm gear reducers in China, we mainly produce reduction gearbox,aluminum case worm gearboxes,arc gear cylindrical worm gearboxes, worm gear reducers, in line helical gearboxes, and cyclo drive reducers, etc. These products feature rational structure, stable performance, and reliable quality, and so on. They are widely used in power, mining, metallurgy, building material, chemical, food, printing, ceramic, paper-making, tobacco, and other industries.
We have 600 workers in our factory, which covers 70,000 square meters in Hangzhou. We have been making 2,500 units of reducers everyday since 2012. We are proudly exporting 70% of our products to more than 40 countries all over the word. Our customers come from Italy, Germany, USA, Canada, Spain, UK, Mexico, Brazil, Argentina, Turkey, Singapore and other main industrial countries in the world. 30% of them are OEM made for direct manufacturers of other products.
We warmly welcome customers from other parts of the world to visit us. Seeing is believing. We are very confident that after visiting our facility, you will have confidence on our products. We have the latest automatic equipments and experienced workers to ensure the stable quality and large output. We have the most sophisticated technical and engineering team to support most demanding requirement on standard and OEM products.
Looking forward to meeting you in Hangzhou, China.